In today's digital age, visuals have become an integral part of our lives, especially in the realm of marketing, design, and personal expression. Whether you're a professional graphic designer, a social media enthusiast, or someone who simply wants to enhance their photos for personal use, you've likely encountered the need to remove backgrounds from images. This process can be tedious and time-consuming, but thanks to advanced technologies and innovative software, it's becoming easier and more accessible. Among the many background removal tools available, Icons8 Background Remover stands out as a powerful and user-friendly option. In this article, we'll explore the best free background removers and dive into a detailed review of Icons8 Background Remover.
The Importance of Background Removal
Why do people want to remove backgrounds from images in the first place? Background removal is essential for various reasons, and here are a few common scenarios where it comes in handy: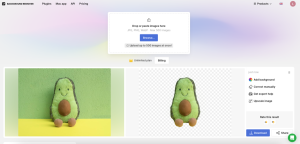 1. E-commerce and Product Photography
Online retailers and e-commerce businesses often need to showcase their products on a clean, uniform background. Removing the background allows the product to stand out, making it more appealing to potential buyers.
2. Design and Graphic Arts
Graphic designers use background removal to create visually appealing compositions, whether it's for posters, brochures, website graphics, or other design projects. Isolating the main subject from its background opens up endless creative possibilities.
3. Profile Pictures and Personal Photography
For individuals, removing backgrounds from photos can enhance the overall look and aesthetics of their profile pictures, social media posts, and personal projects. It's a fun and creative way to express oneself online.
4. Marketing and Advertising
Marketers often use images with transparent backgrounds to create eye-catching ads, social media posts, and promotional materials. A clean, isolated subject draws attention and reinforces the message.
The Free Background Remover Landscape
When it comes to background removal, there are numerous software options available, ranging from free to premium. Each of these tools has its own unique features, strengths, and weaknesses. The choice often depends on your specific needs and budget. Here are some of the key players in the free background remover arena:
1. GIMP (GNU Image Manipulation Program): GIMP is a powerful, open-source image editing software that provides background removal tools. While it's versatile and feature-rich, it may have a steeper learning curve for beginners.
2. PhotoScissors: PhotoScissors is a standalone background removal software that offers a user-friendly interface. It's free to use online but provides enhanced features in its paid version.
3. Remove.bg: This online tool specializes in background removal and is known for its simplicity and speed. It's free to use for limited-resolution images but offers premium plans for higher-quality results.
4. Clipping Magic: Clipping Magic is an online background removal tool with a user-friendly interface. It offers free usage with watermark and provides more features in its paid version.
5. Icons8 Background Remover: Icons8 offers an online background removal tool that's not only free but also boasts a host of features and a user-friendly experience. It's our primary focus for this article.
Introducing Icons8 Background Remover
Icons8 is a company known for its vast collection of design assets, including icons, illustrations, and stock photos. Their Background Remover tool is an extension of their commitment to providing accessible and high-quality design resources. Here's a closer look at what makes Icons8 Background Remover stand out from the competition:
1. User-Friendly Interface: One of the standout features of Icons8 Background Remover is its intuitive and easy-to-navigate interface. You don't need to be a professional designer to use it effectively. The simplicity of the tool is a significant advantage, making it accessible to a broad user base.
2. No Software Installation: Icons8 Background Remover is entirely web-based. This means you don't have to worry about downloading and installing software on your computer. All you need is a web browser, an internet connection, and your image files.
3. Speed and Efficiency: Removing backgrounds from images can be a time-consuming task with many tools. Icons8 Background Remover uses advanced algorithms and AI technology to deliver fast and accurate results. It's particularly well-suited for users who need quick turnarounds.
4. High-Quality Outputs: The tool provides high-resolution image exports, making it suitable for professional projects and print materials. You won't have to sacrifice quality for convenience.
5. Batch Processing: Icons8 Background Remover allows users to process multiple images at once, saving even more time. This is particularly useful for e-commerce businesses and designers who have many images to process.
6. Free Usage: The basic version of Icons8 Background Remover is completely free to use. This is a significant advantage for those who need background removal capabilities without the cost of a premium subscription.
7. Optional Subscription: While the free version is excellent, Icons8 offers a paid subscription plan that provides additional benefits, such as no watermarks, faster processing, and priority support. This is ideal for professionals who require these advanced features.
How to Use Icons8 Background Remover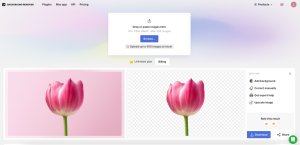 Let's take a closer look at the process of using Icons8 Background Remover to remove backgrounds from images:
1. Upload Your Image: Visit the Icons8 Background Remover website and upload the image from which you want to remove the background. You can either drag and drop the image or click the "Upload Image" button.
2. Wait for Processing: Once you've uploaded the image, the tool will process it using its AI algorithms. This typically takes only a few seconds, and you'll see the progress on the screen.
3. Review and Edit: After processing, the tool will display the image with the background removed. You can review the result and make any necessary edits. Icons8 Background Remover provides a set of editing tools that allow you to fine-tune the selection.
4. Download Your Image: Once you're satisfied with the result, click the "Download" button to save the image with the background removed. You can choose to download it as a PNG file with a transparent background or a JPG with a white background.
5. Batch Processing: If you have multiple images to process, you can click the "Batch Processing" button to upload and process them in one go.
6. Optional Subscription: If you have a subscription, you can enjoy benefits like faster processing times, higher resolution, and no watermarks on your images.
Pros and Cons of Icons8 Background Remover
As with any software, Icons8 Background Remover comes with its own set of advantages and disadvantages. Let's explore some of these:
Pros:
User-Friendly: Icons8 Background Remover's intuitive interface makes it accessible to users of all levels, from beginners to professionals.
Web-Based: No need to install software; you can use it directly from your web browser.
Fast Processing: The tool uses AI algorithms to quickly and accurately remove backgrounds from images.
High Quality: It provides high-resolution image exports suitable for professional use.
Free Version: The basic version is completely free, making it accessible to a wide audience.
Batch Processing: You can process multiple images at once, saving time and effort.
Optional Subscription: Professionals can opt for a subscription with added benefits.
Cons:
Internet Connection Required: As a web-based tool, Icons8 Background Remover requires an internet connection to function.
Limited Advanced Editing: While it's great for basic background removal, it may not offer the advanced editing features that some professional designers require.
Watermarked Free Version: The free version includes watermarked images, which might not be suitable for certain use cases.
Subscription Cost: The subscription plan comes at a cost, so it may not be the ideal choice for budget-conscious users.
Other Free Background Removal Tools
While Icons8 Background Remover is an excellent choice, it's always a good idea to explore other options to find the tool that best suits your needs. Here are some other free background removal tools worth considering:
1. GIMP: If you prefer a more comprehensive image editing tool, GIMP is a powerful, free option with background removal capabilities.
2. PhotoScissors: As mentioned earlier, PhotoScissors is a straightforward, free tool that offers a user-friendly experience.
3. Remove.bg: This tool is known for its speed and simplicity in removing backgrounds. It's suitable for quick, high-quality results.
4. Clipping Magic: Clipping Magic is a user-friendly online tool with a free version that includes watermarked results.
Conclusion: Icons8 Background Remover Shines as a Free Solution
When it comes to choosing the best free background remover, Icons8 Background Remover certainly stands out for its user-friendliness, speed, and high-quality results. It's an excellent choice for a broad range of users, from individuals looking to enhance their personal photos to professionals in the fields of e-commerce, design, and marketing. The fact that it offers a free version with many features and an optional subscription plan makes it a flexible choice that caters to diverse needs.
In the ever-evolving world of design and image editing, having a tool like Icons8 Background Remover at your disposal can save time, improve the quality of your work, and open up new creative possibilities. Give it a try and see how it can enhance your image editing workflow while providing excellent results without breaking the bank.What Makes Icons8 Background Remover the Top Choice for Free Background Removal?"